Damion asks…
Phil, How do you know when a stock is broken?
I asked a few esteemed friends who measure and trade price…
@alphatrends: 2 ways… 1. If a stock is making a series of lower highs and lower lows below a declining 50 day moving average. 2. If it gaps down at least 3% on twice its average volume and doesn't recover quickly especially when accompanied by important news.
@stevenplace: A massive sell off in a stock is rarely a one off event.
@kimblecharting: Short term, when support breaks from a bearish rising wedge. Longer term, when support breaks from a bearish rising wedge and the stock breaks below 50, 100 & 200 moving averages.
@ryandetrick: If everyone is trying to pick a bottom, I know the stock is in trouble. Bottoms form on fear. If price is deteriorating and everyone is still bullish, trying to catch the knife – that is a big worry.
@ivanhoff: One investor's garbage is another investor's treasure, so the whole concept of a broken stock is subjective. That said, stocks that are making 52 week lows during a bull market are usually there for a reason. Stay away from them. When a high flyer breaks its uptrend, it is no man's territory where momentum investors are gone or short and value investors are not yet interested.
@chessnwine: A stock is broken when it recklessly disregards logical levels of potential support after previously ebbing and flowing in an uptrend for a sustained period of time.
@annemarietrades: Broken stocks fail to recover near term relative support with each wave cycle. Weak upside action, sometimes seen by tall wick candles. Upside gaps fail to hold and fill quickly. 50 day simple moving average tests on the hourly charts continually fail. Fib retracements rarely recover more than 50% of downward waves.
@allstarcharts: A stock in an uptrend is broken once the primary uptrend line is breached and price breaks the next major pivot low. So, just because an uptrend line has been broken does not mean that the trend has reversed. Confirmation comes when price takes out the next pivot low and you officially have a series of lower lows and lower highs. Here's a diagram: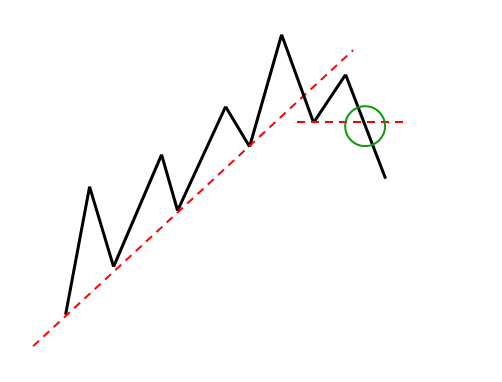 @ppearlman: If a stock gets hit hard with heavy volume on a fundamental news event like an earnings miss, its a first sale is best sale situation.