Earlier this week I wrote a piece about Arena Pharmaceuticals and social momentum which focused on the unprecedented increase in discussion of $ARNA, a biotech stock with an expiremntal obesity drug, on StockTwits and its relationship to price and trading volume over the course of 2012.
Since then (Tuesday, June 19), the level of interest in the name has continued to accelerate.
As of this morning, the 90 day increase in message volume has reached 5308% from 4231% as measured Tuesday while the stock price has added another 19%.
Wow!
On the StockTwits Social Heatmap this morning, $ARNA now shows more messages than $AAPL by a wide margin.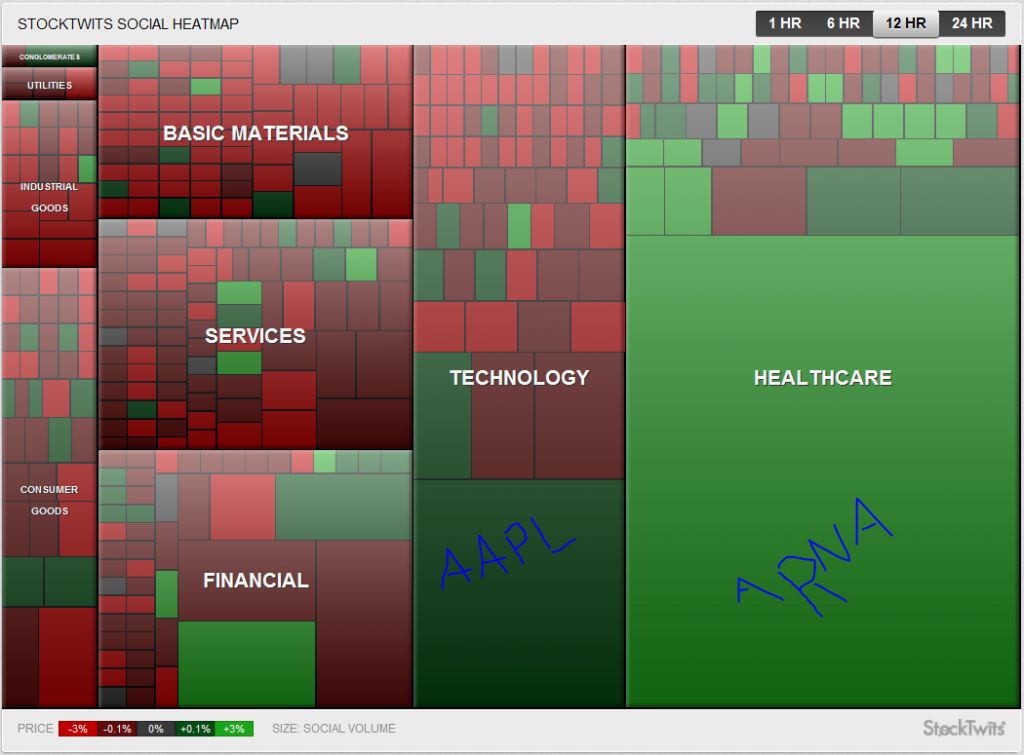 Next Wednesday, the FDA will make a big decision on Lorcaserin, $ARNA's obesity drug.
As Greg Harmon points out, those who are taking bets ahead of the event are gambling as trading off of FDA decisions is difficult even for experts.
On the one hand, this may turn out to be a watershed moment in the treatment of obesity, an epidemic in the U.S, while on the other hand, there may be bloodshed for those who bought this stock most recently amid the parabolic price move.
For those who are interested in market psychology though, $ARNA is an incredible example of how excitement spreads and affects investor attention and price.
This is what momentum looks like, concentrated and bottled.
I am not trading $ARNA but if I were, I would be thinking through the implications of how a story like this and the increase in attention leads to overreaction.
My guess is that the smart speculators who were in this name early and who made a ton of money will be exiting before or on Wednesday's news even if that news is good.
Wildfire…