Here's some quick observations on $YHOO.
I have been long this stock for almost a year and have been taking advantage of this massive consolidation by selling near dated premium on both sides on occasions in which there have been outsized moves in either direction due to either market conditions or noise events (Jack Ma rumors, CEO shake up etc.).
You can read more about my basic strategy in that regard here and here.
RaginCajun posted this chart on his blog Monday: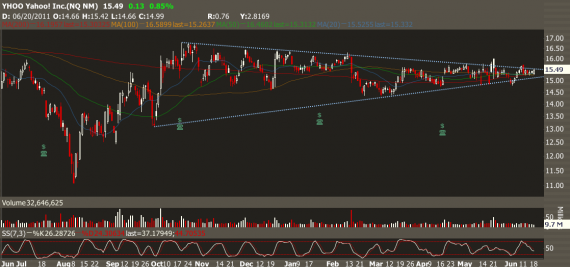 The Cajun wrote: "Tight range for months, I sense a breakout in the very near future."
Great timing posting this chart. The narrowing range implies that something must break here soon and so I am watching closely.
Regardless of the narrowing range, I still plan to write near dated calls on 1/3 to 1/2 of my position on significant moves highers and near dated puts on significant moves lower. You can watch my StockTwits stream for real time entries and exits.
My personal impression is that Levinsohn will be named permanent CEO, that that is a good thing for the company and that he might be the best CEO they have ever had (which is admittedly not saying all that much).
I also believe Loeb is on the right trail and have been in the position as a special situation since before he announced his position. There's more value in their assets than being assigned presently and they still have monster traffic which if monetized more efficiently might lead to much higher earnings.  These things take time.
One other note: @mojoris1977 has been playing the narrowing range beautifully also exploiting theta but more aggressively. He is must follow I think if you are in $YHOO or interested in trading this name.