This morning we launched two new Social Signals on StockTwits.
Social Stocks Signals allow members to analyze larger trends related to changes in the discussion volume for individual stocks as well as industries. We call this social momentum.
While the features are still hot off the presses, I am already finding provocative trends.
For instance, the velocity of interest in biotech stocks, healtcare and the Drug Related Products Industry has been astounding.
Six of the top ten stocks with the largest percentage increases in message volume over the last 90 days fall into this biotech/healthcare bucket and are in the Drug Related Products Industry including $ARNA, $HLF, $AMRN, $KERX, $PLX and $VVUS.
Here is a screenshot of the Unusual Social Volume Module: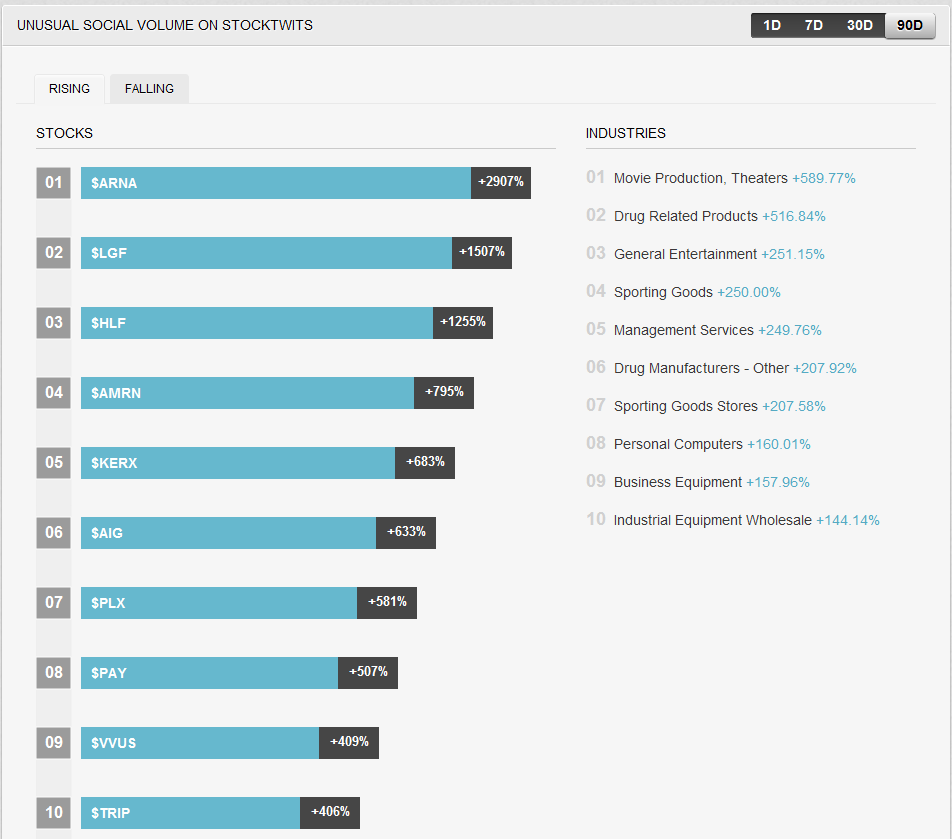 The upshot here is that more and more investors and traders are focusing on and discussing these stocks in this industry now which gets me excited about:
1) Comparing the moves in these stocks to the increases in message volume.
2) Researching more about those stocks in which the message volume acceleration correlates with volatility in the stocks and
3) Finding similar stocks in this industry that are not yet on the 90 Day screen but are on the 7 Day screen with a hypothesis that these newer names might be even earlier in their social momentum cycles.