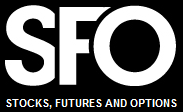 Good morning kids.
On Wednesday, September 28 at 11:30AM Eastern, I will present a webinar entitled How StockTwits Can Help You Trade Better in conjunction with SFO Magazine.
You will get the lowdown on how to find the best traders on StockTwits who share their ideas openly and how to zero in on the setups that match your own trading style.
This will be great for traders who are new to StockTwits or who have only been using it a short while.